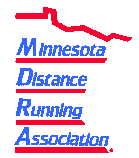 Since 1961
MDRA Lake Johanna 4 Mile
Saturday, March 14, 2015
Schmidt Park, Arden Hills, MN
First of the MDRA running series to test your winter training.
When
March 14, 2015
11:00 AM
Where
North End of Lake Johanna

Directions ..
35W to County Road D, East to Lake Johanna Blvd / Fairview Ave ( stop sign ) turn left, go North to Schmidt Park , approximately one mile.
Course
A scenic yet challenging Four mile loop around Lake Johanna through the residential neighborhood of Arden Hills Roads will not be closed to traffic, runners are urged to be aware of traffic
Cost
Free to MDRA Members. MDRA Members -only race. You may join MDRA at the race or use the registration form for this race.
Registration:
Print out, fill in and mail the registration form to
MDRA
5701 Normandale Blvd.
Edina, MN 55424
by March 11 or bring it to the race.

This is the oldest / longest continuously sponsored race by the MDRA, first run in 1961.

If you need more information, contact Heidi Miler at 952-927-0983 or runminnesota@gmail.com.

Return to home page.